Lady M
Combining French pastry techniques with Japanese etiquette of precision, Lady M prides itself on creating the freshest and finest cakes and confectionary delights. From the likes of domestic goddess Martha Stewart, to Supermodel Linda Evangelista and Japanese fashion designer, Issey Miyake. Lady M Confections has cake boutiques currently located at Orchard Central, South Beach Avenue, Scotts Square and Westgate. Simply head down to get a taste of the world-famous Mille Crêpes alongside a selection of other delectable sweets offerings. I chanced upon Lady M while being at Orchard Central, and I spotted an extremely distinctive designed confectionary cafe and decided to try it out.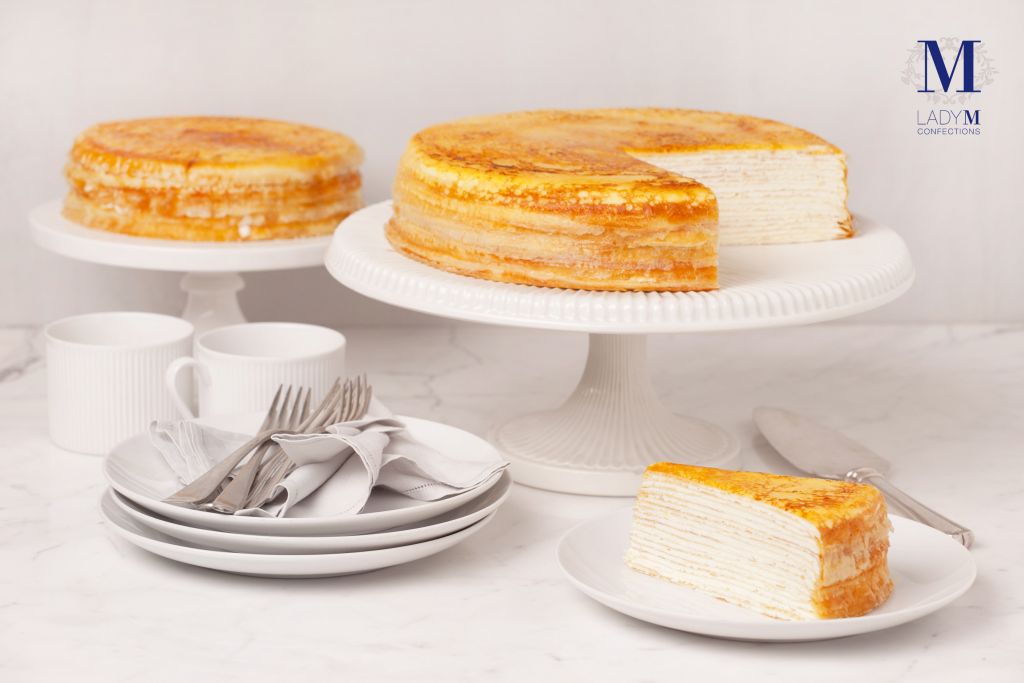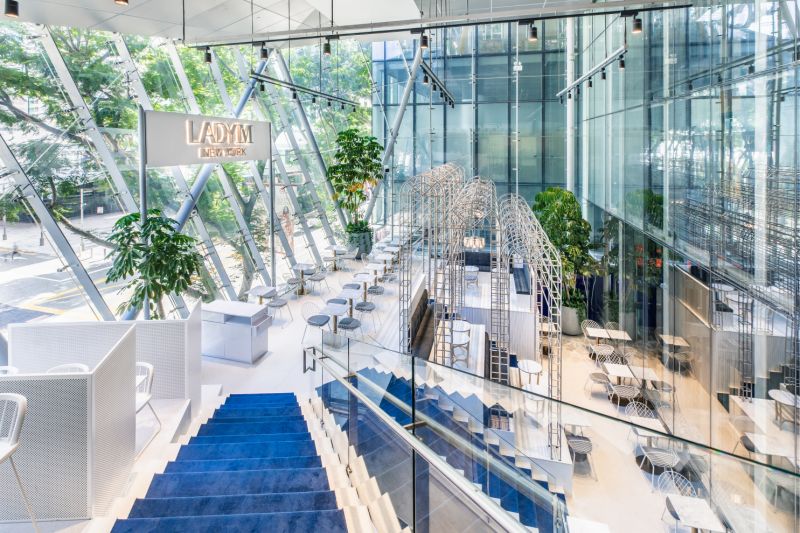 Apart from the cosy sofa seating areas, one can savour their fine pastries while gazing at the traffic along Singapore Orchard Road. Singapore was one of the countries by Lady M to expand out of New York. Marina Square outlet was the first Lady M Singapore outlet,followed by One Fullerton and the 3rd & most recent outlet at Orchard Central was opened in Jan 2015. This is the outlet at Orchard Central and it is the most beautiful outlet of Lady M that I have been to. However, it is not the only one.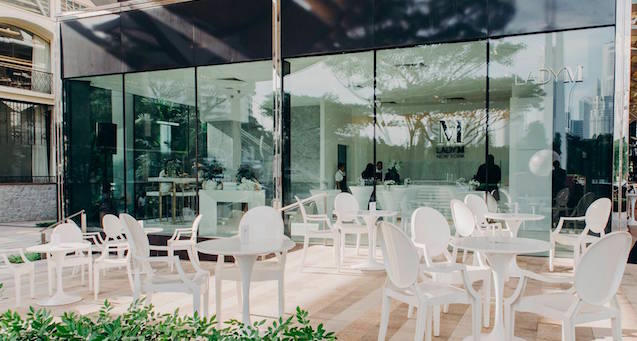 The cakes are freshly brought out from the kitchen every day. I managed to try their signature mille crepe,and I must say, it has such an amazing taste and texture. The texture is similar to soft ice cream and the cake simply melts in your mouth delicately. The cream has a sweet taste along with the caramelisation on top that adds on a hint of bitterness. However, it is not too sweet which is perfect for my tastes.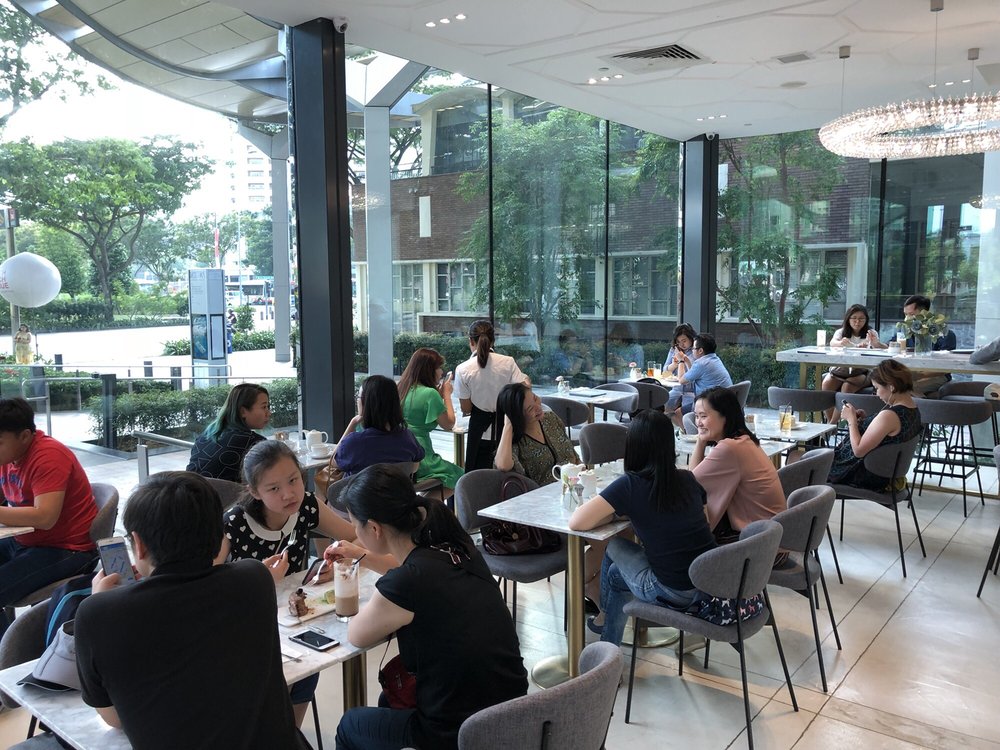 This outlet at South Beach Road also features the greenery on the outside. As you enjoy and savour your pastries, during your tea time. We all deserve a good break and every individual may interpret it in different ways. A short break could mean alot. Having both great food and great scenery creates an amazing memory, as we feel like we are not in our hectic lifestyle in our country, Singapore. But instead, feel as if we are on a holiday overseas, even if it is just for a short while.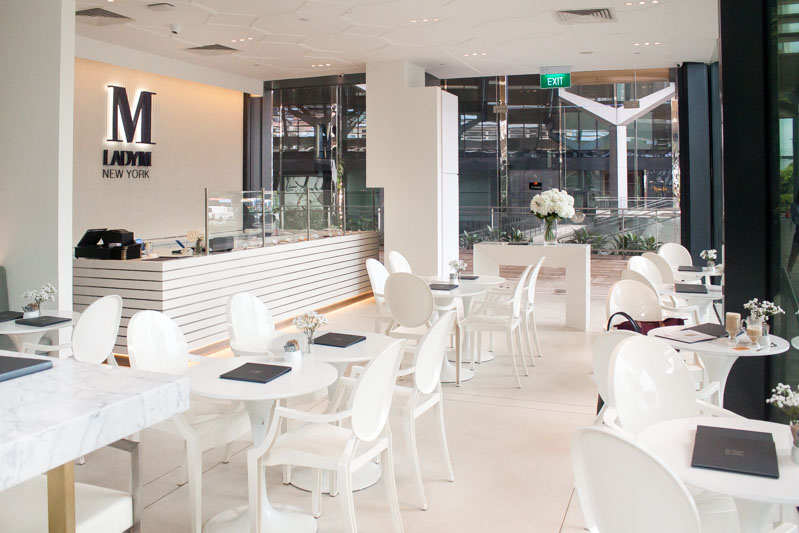 This is the interior of the South Beach Lady M outlet. Doesn't it look amazing? On the whole, personally, I am a regular there. And that just shows how great their pastries are! However, their drinks are on the lacking side as they taste regular like other places. It is a delightful cafe to enjoy casual and sophisticated refreshments any time of day. I feel like I could linger there all day, and catch up with my friends there.
Lady M's Menu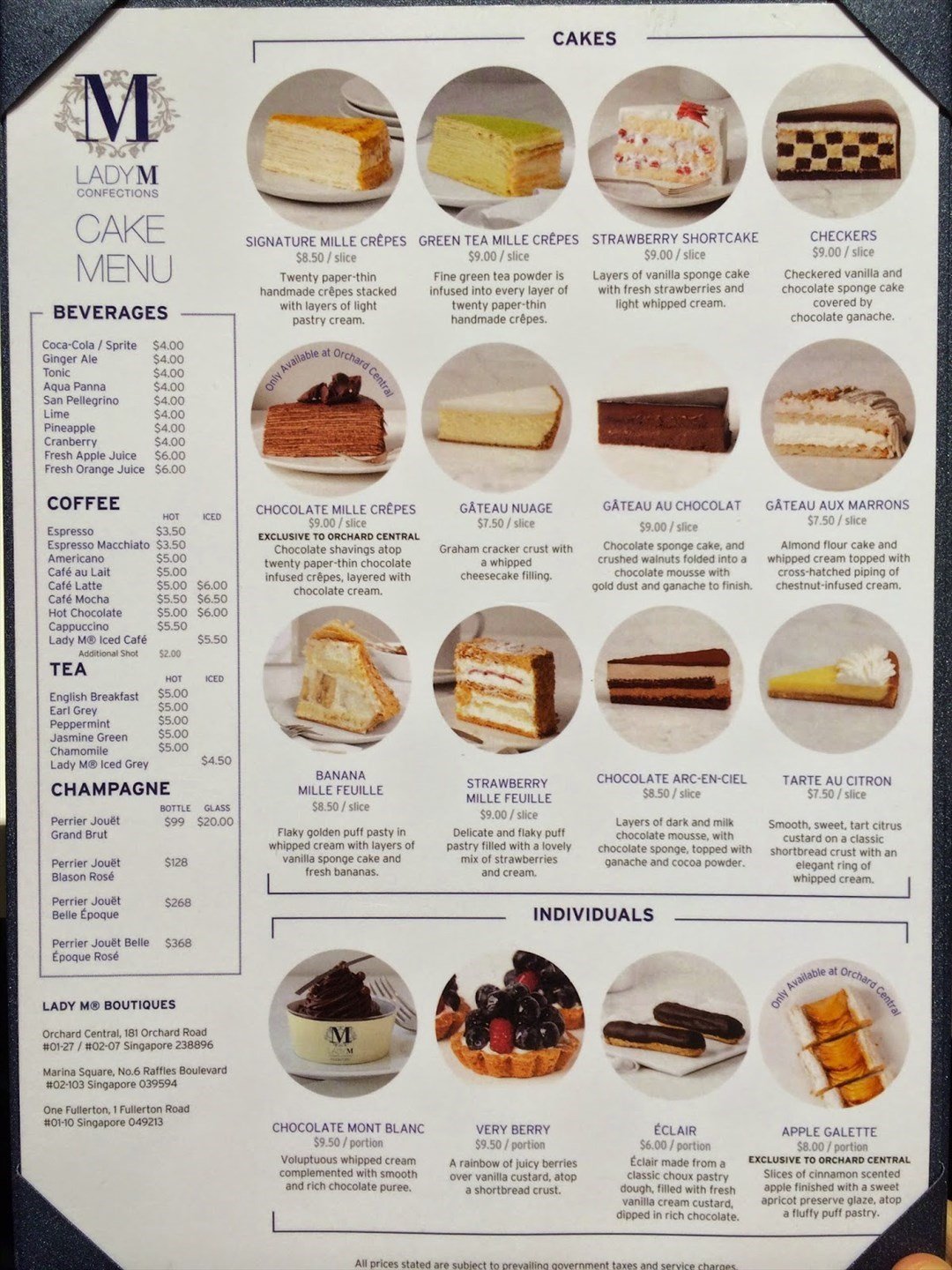 Review:
Taste: 5/5
Location: 5/5 (near MRT Station)
Service: 2/5 (busy during peak hours)
Ambience & Set-up: 5/5 (Amazing view)
Price: 4/5 (Amazing quality for the price, worth the money!)
Restaurant address:
Orchard Outlet:
181 Orchard Road, Orchard Central
#01-27 & #02-07 S (238896)
South Beach Outlet:
South Beach Avenue
26 Beach Road
#01-17 South Beach Avenue
Singapore 189768
Nearest MRT Station:
Orchard Outlet:
Somerset MRT Station
South Beach Outlet:
Esplanade MRT Station
Restaurant Hotline:
Orchard Outlet:
+65 6509 3673
South Beach Outlet:
+65 6702 6735
Restaurant Operating Hours:
Orchard Outlet:
11am to 10pm daily, Last order at 9.30pm
South Beach Outlet:
10am to 10pm daily, Last order at 9.30pm
Restaurant's Website:
www.ladym.com.sg
Thank you for reading!!!